Let us help you with heating repair that will get your Kannapolis home or business nice and warm again.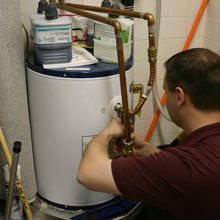 Dealing with a heating repair issue on your own can be frustrating, not to mention potentially dangerous. Why not take the pressure off yourself and call us instead? Our technicians here at J Newton Cohen can diagnose your heating system quickly and provide expert repair solutions that will restore warmth in your home or business before you know it.
We understand that you may be nervous to trust someone to take care of your heating repair, but it should put your mind at ease knowing we have served the Kannapolis, North Carolina area for over 90 years. We must be doing a few things right to have stood the test of time and built a solid customer base that trusts us for heating repair and other services whenever needed. Furthermore, most are so satisfied with the level of professionalism and competency we provide that they refer us to their friends, family, and associates.
We provide heating repair on all types of equipment, including both gas and oil systems, heat pumps, steam boilers, and hybrid systems. You may have had other heating repair companies in the past scratch their heads at your old system, but we assure you it isn't off-limits with us.
We take heating repair very seriously, providing the best possible service and going to the point we even named our rescue cat Heat Pump. You can rest assured that you won't be frustrated by your heating repair if you give us a call to take care of it. We come out and start by diagnosing the problem and giving you our recommendation for resolving the issue along with the related costs. Don't go another hour being uncomfortable; call us today or use our convenient online service request feature for maintenance and other non-urgent HVAC services.
---
At J Newton Cohen, we offer heating repair for customers in Salisbury, Spencer, Granite Quarry, Landis, Cleveland, Woodleaf, Concord, Kannapolis, Cooleemee, Rockwell, and Faith, North Carolina.