Instead of trying to fix it yourself, simply give us a call at J Newton Cohen to schedule a heating repair service.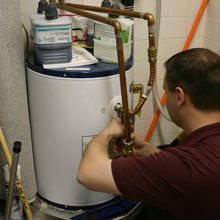 Trying to deal with a broken heater in your home or office building can be frustrating, as well as potentially dangerous. The heating system in any structure uses a number of key components to operate, so it's important to rely on someone who understands each of those parts and can diagnose the problem quickly and safely. If you're located in or around Spencer, North Carolina, you can contact J Newton Cohen for all your heating repair needs. We work on gas and oil-powered furnaces, heat pumps, boilers, and hybrid systems, providing effective and reasonably priced repair services to our valued customers.
You may need heating repair if your system is blowing cold air, making strange sounds, releasing unpleasant odors in the air, or pushing a lot of extra dust around the interior of the building. These warning signs can all indicate a heating issue that should be resolved as soon as possible. Ignoring the signs of a problem can cause further damage to your heater. Instead of taking the chance, simply give us a call at J Newton Cohen to schedule a heating repair service.
Our technicians can diagnose and repair heating problems on units from most of the top brands in the industry. We have been serving local commercial and residential clients for over 90 years, which shows our commitment to providing high-quality work and professional service. Our team members are also happy to answer any questions you may have about your heating system and how to properly care for it to lessen the risk of problems in the future.
---
At J Newton Cohen, we offer heating repair for customers in Salisbury, Spencer, Granite Quarry, Landis, Cleveland, Woodleaf, Concord, Kannapolis, Cooleemee, Rockwell, and Faith, North Carolina.