We can provide boiler installation services at your home or business.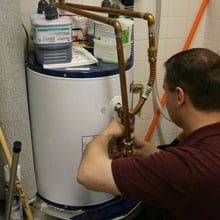 A boiler is a closed heating system that works by heating water to produce heat for a structure. The vaporized or heated fluid escapes the boiler to provide centralized heating for the entire building. Connected to the boiler is a series of pipes, which allows the heated water to flow through the walls or subfloors of the building, allowing heat to radiate. You may hear this form of heating referred to as radiant heating since the method of operation involves radiating heat throughout the floors and walls of a room. Boilers are commonly used in both commercial and residential buildings, providing more efficient heating than other options.
If you've been considering adding a boiler to your home or office building, our team at J Newton Cohen can help with the boiler installation process. We offer boiler installation services for clients in and around Salisbury, North Carolina. Advantages of boiler systems include improved energy efficiency and a more comfortable atmosphere. Water is a better thermal medium than air, which means it can hold heat for a longer period of time. You also don't have to worry about ducts when the heat is transferred thermally, and ducts can account for up to a 30% loss in energy as heated air moves through a traditional heating system.
We can provide boiler installation services at your home or business, so you can take advantage of these benefits. Contact us today to find out how this installation could improve the atmosphere while reducing the cost to produce heat within your home.
---
At J Newton Cohen, we offer boiler installation for customers in Salisbury, Spencer, Granite Quarry, Landis, Cleveland, Woodleaf, Concord, Kannapolis, Cooleemee, Rockwell, and Faith, North Carolina.