While some other heating contractors have stopped serving the Cleveland area, we're still going strong after more than 90 years.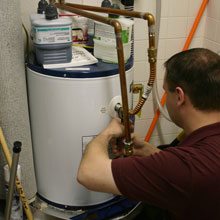 There is nothing enjoyable about finding your Cleveland, North Carolina home or business has no heat. That panic sets in about which heating contractors you can trust to give you honest answers and reliable service. You can relax now that you know about J Newton Cohen because we have had more than 90 years to learn every conceivable business practice to ensure customer satisfaction and to get proficient at our trade to give you the solutions you require.
Each generation has built on the knowledge learned from the previous one, so you can be confident that our third generation can exceed your expectations in terms of professionalism and quality. We keep our appointments because we respect your time and even offer on-site credit card payments, so you don't have to take the time later to call in or write a check.
Not only do we have the memory of prior generations to keep us on the tip of our toes as the best heating contractors in the Cleveland area, but we also have a delightful mascot – a special rescue cat we aptly named Heat Pump, who makes sure we do a good job. Okay, maybe Heat Pump doesn't have a lot of sway, but you can count on our honesty and integrity just the same.
We are full-service heating contractors. We perform heating installation of all types of systems, including furnaces and boilers, as well as the maintenance and repair services you'll need to keep them performing properly, safely, and efficiently. If you have any question about our services or would like to schedule an appointment for a free estimate, feel free to contact us using our online service call request or by giving us a call.
---