We can expertly handle any commercial or residential heating repair!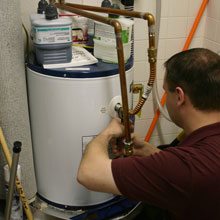 What do you do when you're shivering your way through a cold snap? When our heaters malfunction or stop working altogether, it's never at a convenient time. If you find yourself chilling out during the chilly season, it might be time to call for a heating repair here at J Newton Cohen!
In the Cleveland, North Carolina area, you have several options when it comes to heating repairs. However, you won't be able to find one that can beat the experience and expertise of our team here at J Newton Cohen. We have kept our family-owned business working hard for nearly a century now, and during this time, we have amassed a knowledge of heating elements that is hard to match! There's not a heating element that we haven't seen or worked on, so you can feel confident that when you call us for a heating repair, we will be able to diagnose and solve the issue.
When you call us for heating repairs at J Newton Cohen, you'll be getting equal expertise whether your structure is your home or a massive commercial structure, we can work on both with equal amounts of skill. There's nothing quite like the comfort of knowing that your heating elements will be repaired skillfully when you call us at J Newton Cohen.
If you would like assistance with a heating repair or would like to know more about the HVAC services we offer here at J Newton Cohen, we would love to talk with you. Please contact us today, and let us know how we can get you comfortably warm with a heating repair today!
---
At J Newton Cohen, we offer heating repair for customers in Salisbury, Spencer, Granite Quarry, Landis, Cleveland, Woodleaf, Concord, Kannapolis, Cooleemee, Rockwell, and Faith, North Carolina.